CARROT CORIANDER SOUP
By:- Healthways Date: 01-Sep-2020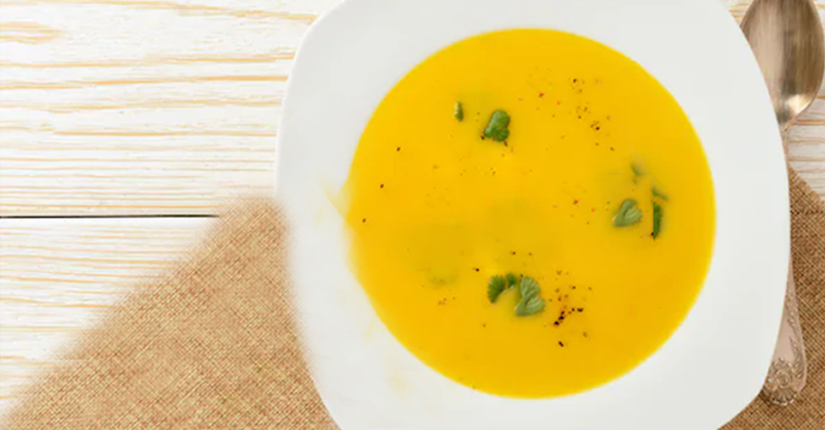 What's better than a hot, comforting bowl of soup on a busy tiring night or a lazy Sunday afternoon? This self-satiating soup is vegan and really simple with just a few ingredients. Enjoy this delicious soup in no time!
Nutritional Benefits:
Carrots are a particularly good source of beta-carotene, fiber, vitamin K, potassium and antioxidants. They boost digestive health and are also essential to protect and enhance your vision. They are a weight loss friendly food and have been linked to lower cholesterol levels.
Coriander is a wonderful source of dietary fiber, manganese, iron and magnesium as well. It helps in lowering blood cholesterol levels and management of high blood sugar. Vitamin K found in coriander helps in fighting or preventing Alzheimer's disease.
Ingredients
20 grams sliced onion
30 grams sliced carrots
1 teaspoon ground coriander seeds
30 grams roughly chopped coriander
½ teaspoon ground black pepper
Salt to taste
½ teaspoon olive oil
Directions
Sauté the onion and later add carrot.
Pour in ground coriander and cook.
Next, add water and boil until vegetables are soft.
Add coriander leaves and cook for 2 minutes.
Serve hot.
Calories – 43 Kcal
Carbohydrates – 7.0 grams
Protein – 1.5 grams
Fat – 2.0 grams
Over to you
This version of soup is fat-free, quick and super duper simple to make. Try this healthy soup, which is a great option for supper and in no time it can become your family's favourite soup. This replenishing carrot coriander soup fulfills your required dose of Vitamin A and can be enjoyed as a starter as well!