Chikoo Berry Milkshake
By:- Healthways Date: 27-Jun-2019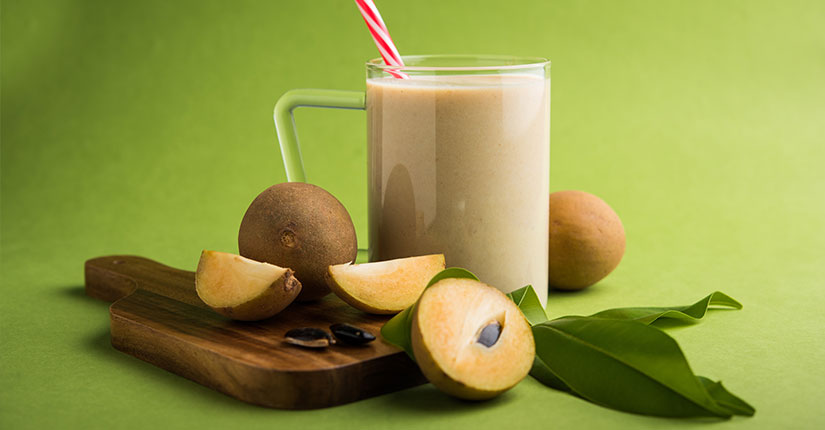 This energising, smooth milkshake recipe of chikoo with a goodness of sweet and flavour is ideal of these summers. This is one of the most economical fruits and yet one of the healthiest. The natural sweetness of chikoo makes it best fruit for milkshake recipes. Make sure to choose the ripe ones since they are on the softer and sweeter side.
Nutritional Benefits –
Milk is an excellent source of vitamins and minerals, including protein, healthy fats and antioxidants. It also provides potassium, B12, calcium and vitamin D, which are lacking in most of the diet. Along with this, milk is a good source of vitamin A, magnesium, zinc and thiamine (B1). Chikoo is naturally sweet due to presence of natural sugar fructose and sucrose in it. This delicious healthy fruit has a natural dietary fibre and roughage that helps improving tummy health and fight with constipation and other digestion related problems. Since this fruit has a lot of minerals including calcium, iron and phosphorous. The milk also helps with Calcium and hence it's good for bones and helps in strengthening as well.
Ingredients
Chikoo- 1 medium sized
Strawberries – 3-4; chopped
Toned Milk – 150 ml
Crushed Ice – ½ a cup
Coconut Sugar – ½ teaspoon [optional]
Calories – 148 kcal
Proteins – 5.1 grams
Fat – 4.6 grams
Carbohydrates – 19.9 grams
Method
Start with removing the skin of Chikoo properly.
Cut the chikoo in quarters and remove the seeds from it.
Wash the strawberries in running water and chop them into small pieces.
Blend the chikoo, strawberries in a juicer or a mixer and add milk to this blended mixture. You can also choose to add sugar if you feel the chikoo are not too sweet.
Open the jar and add ice cubes to it. Blitz again.
The Chikoo berry milkshake is ready. Pour the milkshake in serving glasses and serve it chilled.
Over to you
This chikoo berry milkshake recipe, is a simple, smooth milkshake recipe of chikoo. A perfect drink to relish for hot summer afternoons and morning breakfast.