MINT CHUTNEY (GREEN DIP)
By:- Healthways Date: 01-Apr-2020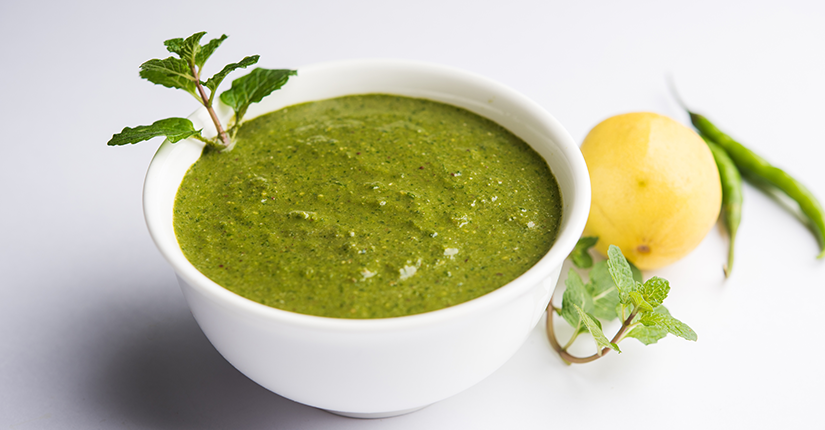 This chutney is really versatile as it goes well with a variety of dishes. You can use it for salad dressing, sandwiches, dosa, idli, tikkas, cutlets and many other options.
Nutritional Benefits
Mint is a flavor enhancer, and its pleasant aroma makes food even more appetizing. It can manage nausea, heartburn, acidity, and headache. Mint is known to increase bile secretion and encourage bile flow, which helps to speed and ease digestion. Coriander is a wonderful source of dietary fiber, manganese, iron and magnesium as well. It helps in lowering blood cholesterol levels and management of high blood sugar. Vitamin K found in coriander helps in fighting or preventing Alzheimer's disease.
Ingredients
1 bunch mint leaves
1 sprig coriander leaves
2-3 garlic cloves
¼ ginger clove
1 teaspoon lemon juice
Water (to blend)
Rock salt as per taste
Note: You can also use thick curd in place of water to make chutney smoother.
Calories – 23 Kcal
Carbohydrates – 3.8 grams
Protein – 1.6 grams
Fat – 0.3 grams
Method
Put all the ingredients in a blender, and blend until a smooth consistency is attained.
You can serve this delicacy immediately or can store it in an air-tight container for about 3 days (in the refrigerator).
Over to you
Add a minty twist to the salads by simply sprinkling this mint chutney. Beyond the minty flavour, it will add loads of nutrients to the plate and refreshment to the mood!